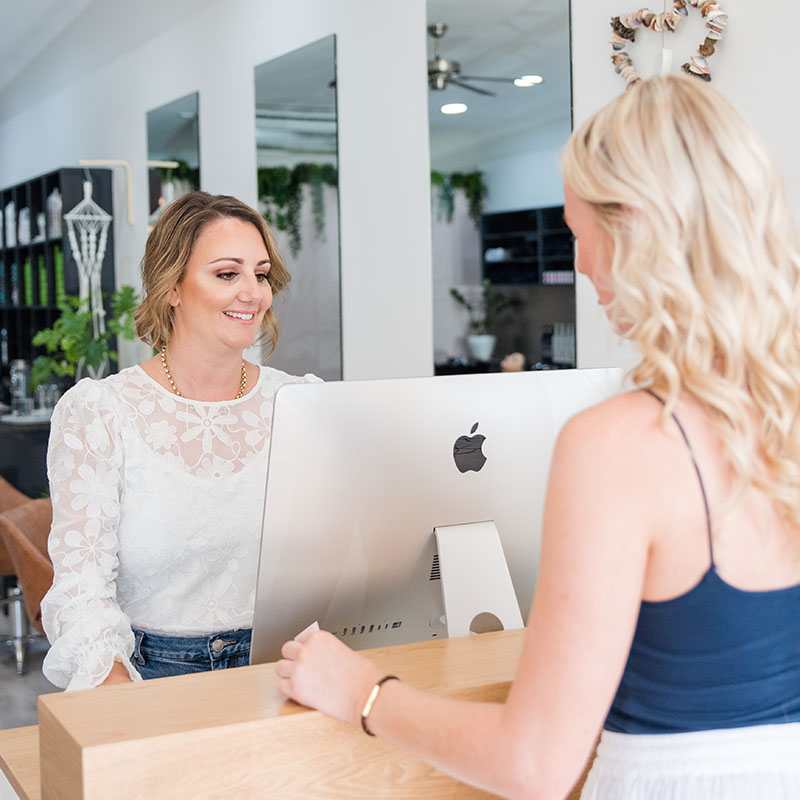 What our wonderful clients say
In addition to our salon awards and the exceptional skill set we share within our team, we're incredibly proud to hold 5-star reviews from both long-term and brand new clients across our platforms. Studio Lane is devoted to delivering quality results and exceptional service, no matter what you're booking in for.
Here's what our wonderful clients say about their visits to Studio Lane….
The atmosphere when you slide the door open and step inside Studio Lane Boutique transports you into a peaceful tranquil space. I've never felt anything like it before at a hair salon and I've been in a few over my 60 years! Roz knew exactly how to style my hair, one side in particular just needs a bit more attention and she was on it! The lounge chairs at the basin are SO comfortable, no neck strain or pain at all. A nice soft neck cushion and I was so relaxed to enjoy the shampoo and oh that head massage was amazingly good, thank you! See you again in a couple of weeks Roz and Renae."
DEL STICHER
I was referred to Studio Lane from a friend and couldn't be happier. Such a relaxing and welcoming feel when you arrive. Renae and Rozzy clearly care for their clients and chat and collaborate to ensure the perfect outcome is achieved. I love my new colour and the advice the girls give for looking after it. It's always lovely chatting with them but they are always happy to leave me to work on my laptop when necessary. So happy I'm now here."
RACHEAL HEELAN
"Excellent hairdressers. The best in the business when it comes to blonde colours that look natural and won't damage your hair. They keep up with the latest trends and products. Friendly conversation and always good for a laugh, so the time flies by sitting in the chair. Best of all I leave feeling great and receive lots of compliments about how great my hair looks."
ELIZABETH HARPER
"I have been going to Renae for a number of years now. Ever since she first rescued my hair from a horrific cut from a careless 'hairdresser' – I don't think I could ever possibly trust any one else! It really is the best feeling when you walk into Studio Lane because you instantly feel comfortable and are always well looked after. 10/10 would recommend!"
JASMINE BOOMER
"The Team are amazing. So caring and I always walk away feeling a million dollars. I was told my hair could never be changed from black by so many other salons but Renae and the team have worked with me to achieve the look I've wanted. I've got the gorgeous red I've wanted and healthier hair. To top it off I've found a salon that really cares for your hair and what you want while professionally guiding your decisions!"
ARKLENE HUNSDALE
"Renae has been styling my family's hair for years. She is always up to date with the latest styles and colours, and also knows exactly what will suit me and my hair type. I trust her with my hair completely. Her upstyles are gorgeous as well and Hannah gives an awesome head massage. I highly recommend this salon. Love your work girls!"
MICHELLE HOUNSLOW